A work cell is an area in a Lean company organized around the production of a specific product or product group.
A work cell should be designed to promote flow and reduce waste.
One of the biggest benefits that a work cell offers is proximity. When downstream processes are located immediately next to the upstream process, as they are in a work cell, there is no need to batch products for transportation. A single product can be handed between stations in a work cell, creating a great environment for flow through the value stream.
A u shaped cell is a specific form of work cell designed to eliminate walking. The operator finishes where he starts, so there is no time wasted walking back to the first process.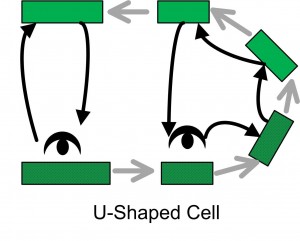 © 2009-2013 by Velaction Continuous Improvement, LLC. All rights reserved.