Developing a Lean Strategy
A Lean strategy is not something that stands on its own. It is the integration of Lean principles into a corporate strategy to deliver breakthrough improvements year after year. It is the confidence that the structure is in place to deliver on aggressive goals without sacrificing the future of the company for short-term gains.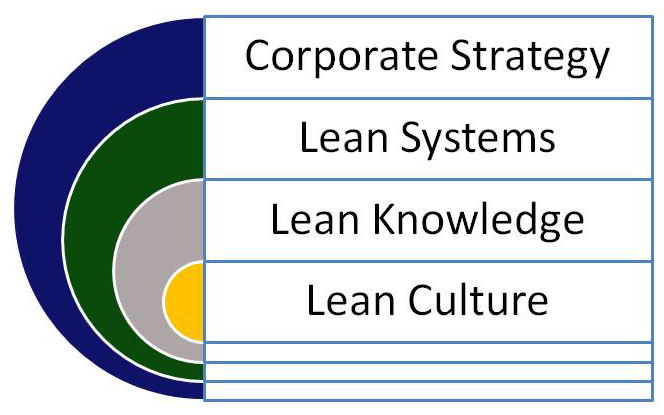 Lean Strategy = Corporate Strategy
What that means is that a Lean company's strategy is, by definition, a Lean strategy. It means that the company charts its course to improve its profit by reducing costs, or by becoming the highest quality or most responsive supplier in its market. Or it decides that success lies along the path of being renowned for its outstanding service.
In each of these cases, the company's strategy is only attainable by having Lean deliver on its potential.
A Lean Strategy Needs a Solid Core
Inside every successful Lean company are several layers of development that must be present for an effective Lean strategy to emerge. The diagram above shows these layers.
A Lean strategy relies on having effective Lean systems in place-kanban, kaizen processes, daily management, and the like. These systems are only possible when people throughout the organization are trained on the Lean tools and understand how to operate in a Lean manner.
But at the heart of a Lean strategy is a Lean culture. That means an engaged, committed workforce that believes Lean is as good for them as it is for the company.
Velaction shines at helping you build the layers necessary to create a corporate strategy that takes full advantage of the potential of Lean. We provide training and consulting, as well as other Lean services and products.
Look around our site to get a feel for our style and learn about our Lean philosophy. And then call us at 1.800.670.5805 or email us at Info@Velaction.com to lay the foundation for your Lean strategy.