An In-Depth Look at the Continuous Improvement Information You Need, Exactly When You Need It
These useful Lean tutorials begin where The Continuous Improvement Companion leaves off. Each Lean tutorial packs a wealth of useful, practical information into a right-sized package that helps you learn just what you need, just when you need it.
Find what you are looking for by browsing through this list below. Or watch for links throughout the free content on our site that point you to these high-value training materials. We know you'll get a lot out of this information, but don't take our word for it. Try them out. We are so confident in the quality of our materials that they come with Velaction's guarantee.
Lean Tools and General Topics
---
Pareto Charts
The 5 Steps to Making an Effective Pareto Chart: How to use the 80/20 rule to make your job easier.

This report takes you through the steps to create a Pareto Chart to support your continuous improvement efforts.
It covers the basics about Pareto charts, how to make one manually, and how to develop one with Excel 2003.
Download the PDF file immediately after purchase.
---
Standard Work
Structuring Standard Work: A Leader's Guide to Developing Standard Work that Works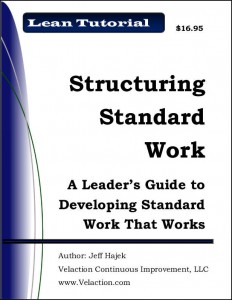 You may know how to put Standard Work in place, but you may not know the lessons learned from years of kaizen leadership experience.
Make your Standard Work more effective by learning to structure it properly.
Download the PDF file immediately after purchase.