Lean PowerPoint Training: Starter Bundle (Corporate License)
If you find our products useful, please help us spread the word about them!
Overview
Our Lean PowerPoint Starter Kit gets you going on your continuous improvement training in a hurry. With nearly 500 slides in 24 presentations, you'll have a great foundation for a highly effective training program.
Plus, unlike other training you might find, our starter kit is expandable. Add in student guides, training exercises, free downloadable terms on PDF, and even a recorded version of the training on DVD. (Note: We've got a great deal on our DVD Big Bundle that you can pair up with your classes.)
We also think you should know what you are getting before you make a purchase, so we let you see thumbnails of each and every slide you'll be buying.
Product Details
Format: PowerPoint 2010
Number of Presentations: 24
Number of Slides: Nearly 500
Delivery: Immediate Download
License Type: Corporate
See the classes in action in our Lean Training on DVD
---
Sample Slides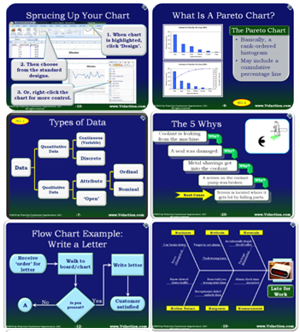 Related Products

This bundle contains the following PowerPoint presentations:
Product Feedback:
Please leave feedback about it.