Greetings!
Let me start off by saying I hope all of you (in the US, at least) had a great Thanksgiving holiday.
The holiday means this year is wrapping up, we are gearing up for the new challenges starting in January. A big improvement priority of ours deals with how we do our product development. One of the things we've been hearing is that people want a way to tie our Lean Training System together. We responded this year with our Continuous Improvement Transformation Model. But we want to go even further and will be developing a "Practical Guide to Creating a Lean Business System." (At this point, it is still a working title.)
We are still ironing out the details, but we'd love to hear what you'd want to see in a program like this. Let us know at info@velaction.com.  In the not too distant future, we'll also be asking for some volunteers to try out the program. More details to follow as we get moving on developing this program.
Congratulations also go out to J.G, C.B., and J.T. for being selected to receive Problem Solving DVD packs. It was hard to choose from among the three of them, so I decided to just give all three finalists a set. Look at the "What's New?" section to learn more about them and how you can get the next set of DVDs we are giving away.
And finally, as always, best wishes on your Lean journey.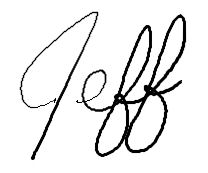 Jeff Hajek
Founder of Velaction