Somehow, summer always gets away from me. At the beginning of the season, it seems like there is so much time. But then I blink, and suddenly over half of it is gone. This one has been particularly busy on both the personal and professional side.
The business has still seen us dumping time and energy into battling some serious issues with our Google rankings. They regularly change their processes for ranking, and we got caught up in something that is dragging us down. We are still ranked highly on Bing, though, so we are pretty sure it is not the content that is a problem. Plus we get great feedback. In truth, we think we'll come out of this stronger, as the changes we are making have made the site even better. In the meantime, though, you can help us out by spreading the word about us with links to interesting articles, or by connecting to us on social media. Every little bit helps.
On the personal side, my wife and I have an annual summertime competition to see who can plan the most fun stuff for the kids. It tends to mean that we are on the go all the time trying to outdo each other. Interestingly, the behavior of our kids mirrors what you likely see from your customers. The scoring is inconsistent, based on mood and how recently we planned something. And tracking of the points is virtually nonexistent. I might have 400 points today, and 4 million tomorrow. The current winner shifts on a whim, sometimes even to provide leverage for the next activity. The things that score highest are not always the things we think will be the best. In fact, I have learned that an ample dose of sugar is an incredible 'value-add' to any event.
The takeaway is that you always have to be on your toes when working to please your customers. And it gets even harder when you are up against a determined, formidable adversary. In fact, I am going to have to end this now. I think my wife is up to something, so I've got my next "No Bummer Summer" mission to plan…
As always, best wishes on your Lean journey.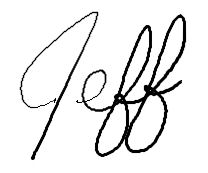 Jeff Hajek
Founder of Velaction