This A3 template can be used to create an A3 report, the communication medium for A3 problem solving. The A3 report takes its name from the size of the paper, "A3", that the report is generally written or printed on. (A3 paper is an international designation similar to the ledger size 11 x 17 inch paper in the US). It is most commonly used for problem solving, but may also be used to write concise proposals or provide status updates for projects.
The large size of the A3 report lets users see, at a glance, a great deal of information. A common format includes:
Header info (Problem Title, Owner, Date, etc.)
Background Info
Current State
Effect Confirmation
Follow-up
WARNING: Before using this A3 template, please understand that it is just one possible format. Purists will tell you that there is no set A3 template. They suggest that an A3 report should follow a basic flow, and that the sections should be structured to match the problem. The belief is that using a template tends to restrict choices, and limits the full potential of A3 problem solving. I recommend that if you choose to use this A3 template, you treat it as a suggestion, and feel free to alter the section headers and spacing as needed. Whatever sections you decide to include, though, just be sure to keep PDCA in mind.
Read more about this form below.
At the end of this page, you will find links to download a few versions of A3 templates. Please keep a few important points in mind.
There is no set format for A3 reports. These templates are just starting points. They should be adjusted to meet your needs.
Many people promote the use of handwritten A3 reports. Novices should learn to do A3 reports by hand before using a PC to generate one.
You may need to adjust margins and the layout on the page to match your printer. Many printers have different default settings, so the appearance of these A3 templates may vary when printed.
Consider using a hybrid form of A3 report to get the best of both worlds (PC and handwritten). Do each section by hand as you visit gemba (the actual workplace), and then transfer it to the computer. It does add in a wasteful step, but it removes several others. You won't have to rewrite the report every time you make a change or find better information for an earlier section.
Plus, you won't forget information between the time you observe a work process and the time you get back to a computer to record it.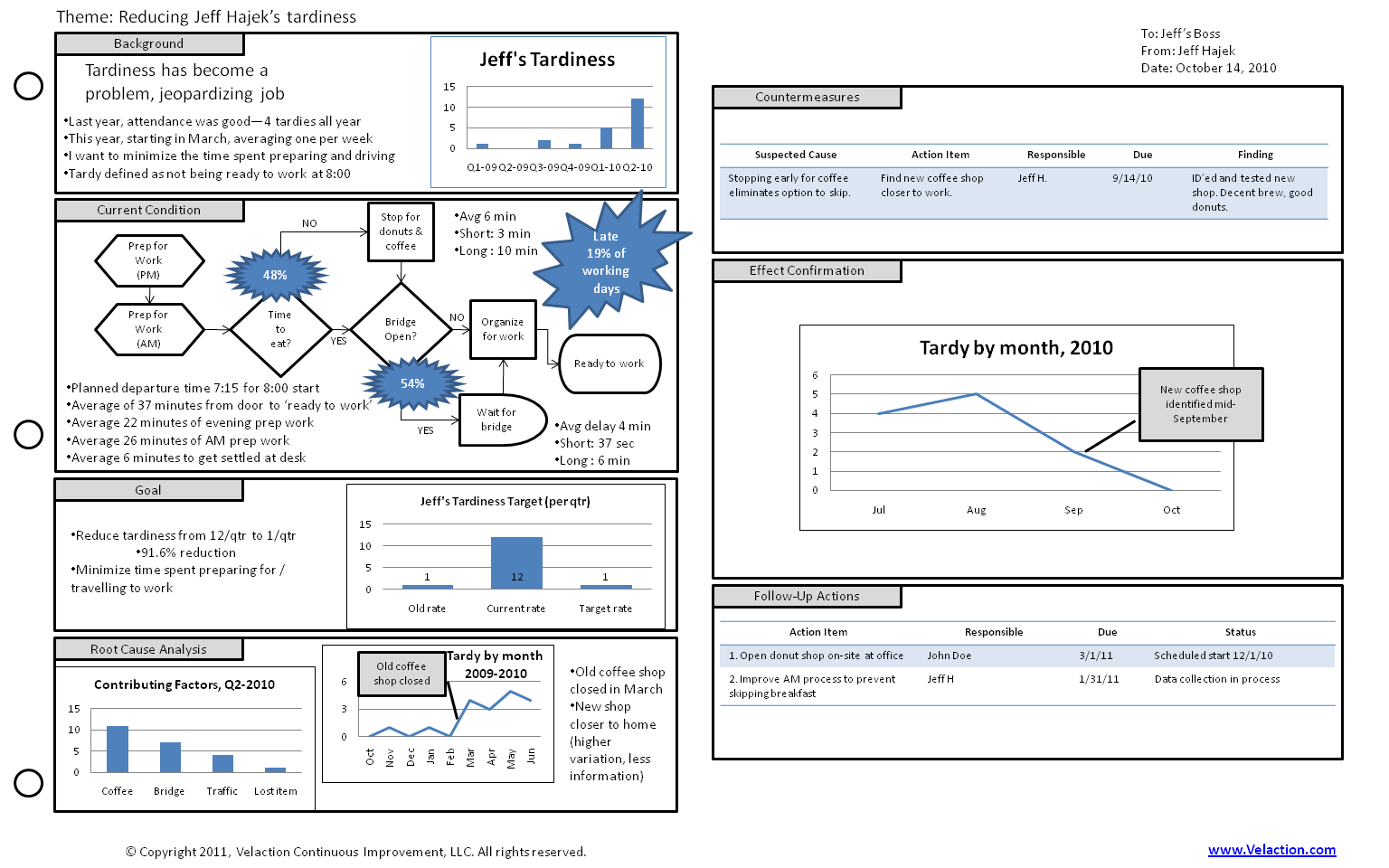 The sample above is used in our Fundamentals of A3 Thinking Class, from our Line of Lean Training Materials.
© 2009-2016 by Velaction Continuous Improvement, LLC. All rights reserved.