5S PowerPoint Lean Training with Visual Management.
If you find our products useful, please help us spread the word about them!

Click the banner above to see where this product fits into our practical guide to Lean.
Components In This Module

Key Benefits
Unrivaled versatility when paired with other 5S training components (see the "Components in the Module" section below.
DVD available to use as an instructor's guide or for make-up training. Watch an 11+ minute preview below.
FREE 14-Page Lean Term on PDF companion to the class
Highly engaging, entertaining Lean Lego Training Exercise available
Student guide available to help students stay focused during training
Highly effective visual slides promote concept retention
Overview
Not all Lean training is created equal. Ours stands apart because of its deep integration with our Lean training system. Don't settle for just a 5S PowerPoint presentation. Add a student guide, a Lean Lego training exercise, a free 14-page 5S Lean Term on PDF, and even a DVD of this 5S PowerPoint training in action. (Click the 'More Component' links above for additional information.) Plus, combine it with other modules (topics) to build a comprehensive Lean training capability.
Get the best values on this training by buying it as part of a bundle. (Click the banner link above or the bundle links below the product images.)
Our 5S PowerPoint Lean Training (with Visual Management):
Shows teams how to organize their workspace to be more effective
Saves trainers time by giving them a presentation they can use in its entirety or to add individual slides into another presentation
Can be edited and modified for use throughout a company with our corporate license
Uses both office and shop floor examples to make it applicable throughout an organization
Product Details
License Type: Corporate
Number of Slides: 36
Target Time: 60 min
Revision Date: 2/6/2010
Format: PowerPoint 2007
Delivery: Immediate Download
Exercises Available: Lego® building block exercise, Lean Office 5S Exercise
Skill Level: 2 (Using Tools)

This 5S PowerPoint presentation lays the foundation for a team to start on the path to an organized, efficient, and effective workspace.
Our 5S PowerPoint training package covers the basics of 5S and visual management principles. It presents the topics in an engaging way that gets people excited about trying out the concepts in their own work areas.

This 5S PowerPoint presentation covers the following topics: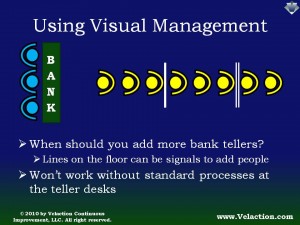 1. What is 5S?
a. Definition
b. The origin of the 5 'S's
c. Why 5S?
d. The 5 'S's
i. Sort (Seiri)
1. Red tags
ii. Straighten (Seiton)
iii. Scrub (Seiso)
iv. Standardize (Seiketsu)
v. Sustain (Shitsuke)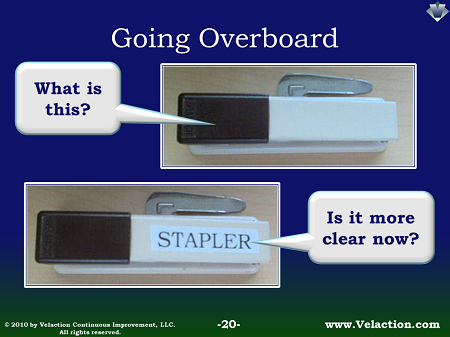 2. Implementing 5S
a. Requirements
i. Leadership
ii. Culture
iii. Skills to implement 5S
1. Software
2. Arts & Crafts
3. Creativity
iv. Equipment and materials
v. Systems
b. Steps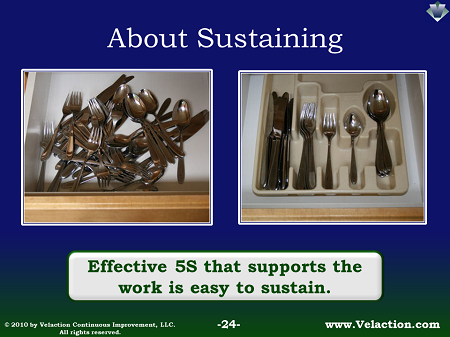 3. Evaluating and maintaining 5S
a. What makes 5S hard?
4. What are visual controls?
5. Why use visual vontrols?
a. The characteristics of visual controls
6. Implementing visual management
a. The visual workplace
i. Benefits
ii. Costs to transition
b. Linking abnormal conditions to actions
So, take a look at a preview of the slides from our 5S PowerPoint presentation, and see the value for yourself. And then, get your team moving on their Lean journey.
Thumbnails of the entire presentation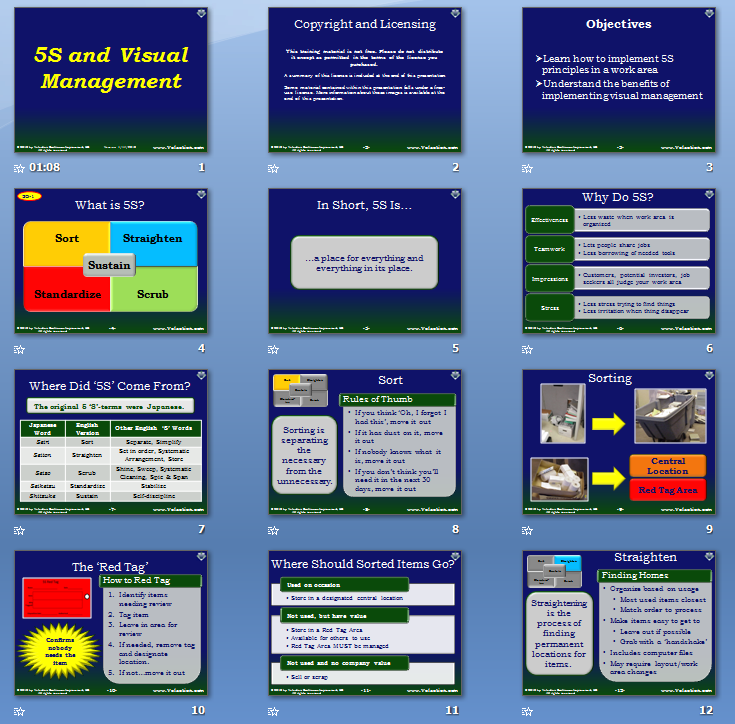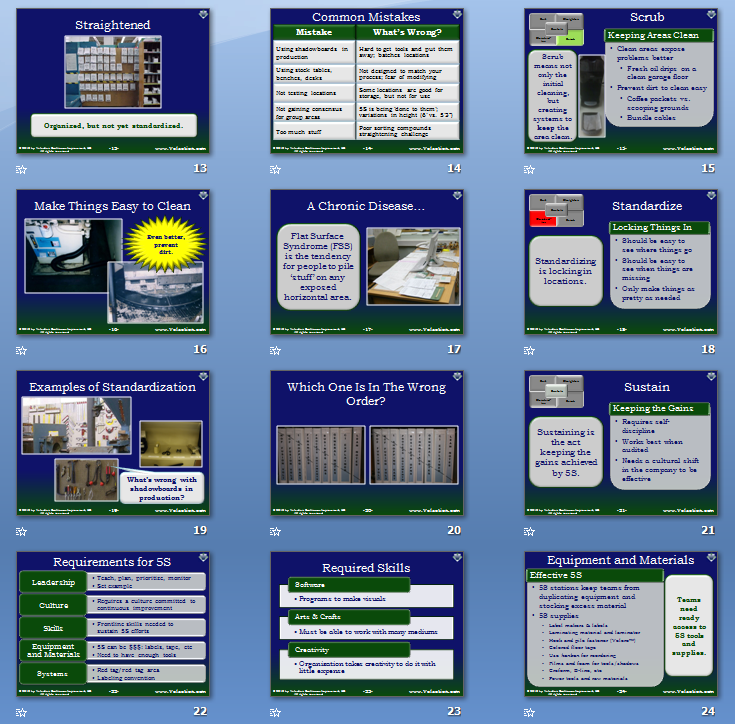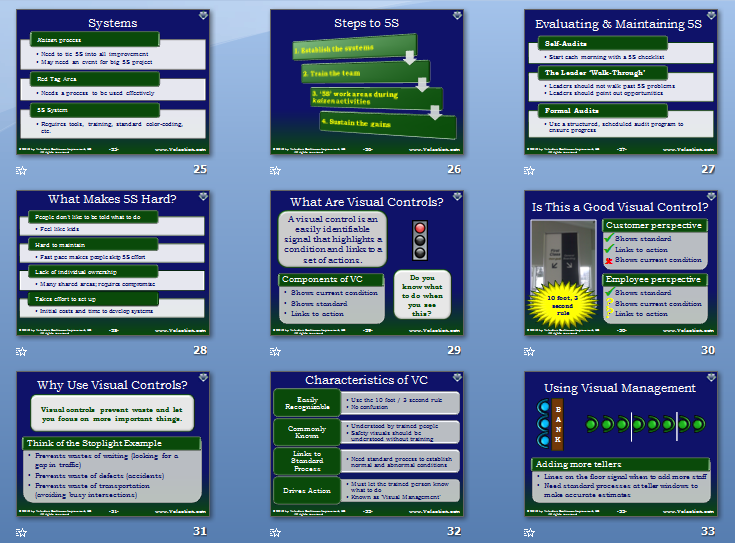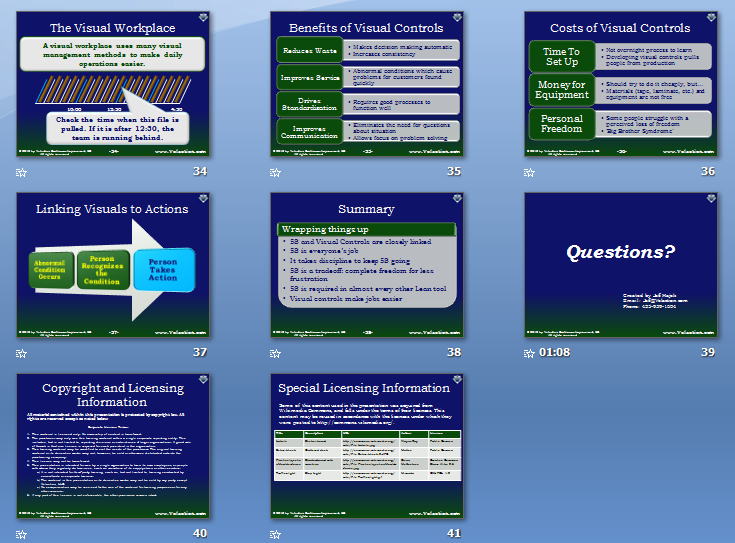 What do our PowerPoint training packages offer?
Flexibility: Our training packages come with a liberal corporate license so you can use them in a way that makes sense for you. Plus the PowerPoint 2007 format lets you make changes. Use the whole package, or just the slides you need. Leave the slides the way they are, or change the look or the content. It's up to you.
Engaging Training: We make use of visuals, humor, animations, and whatever else we can think of to keep the audience's interest. It your trainees aren't interested, they won't learn.
Value: We keep our production costs down so you can get a lot of great training at a low price. You'd be hard pressed to find more for your money. Even the free stuff you can find online is not a better value if you have to spend a lot of time changing things, or if it isn't in a format that suits your needs. Compare the cost of a few hours of your time changing "free" training to the cost of ours.
Consistent Look and Feel: Because we offer a wide range of training topics that is always growing, you won't be presenting a mish-mash of training packages to your team.
Comprehensive Training: Not only do we offer many different training topics, we also have student guides, leader's guides, and/or exercises to go with many of our packages.
Modularity: We don't expect that one training package will have exactly the topics you need in it. So we design our training packages in small modules that you can put together however you like. Don't buy what you don't need. Just another way we try to add value to your training dollar.
Online Resources: No training package can give your students everything they need in a short session. That's why we offer an impressive range of online resources to augment the classroom training you deliver. Who else backs their training with as much free information that your trainees can instantly access as we do?
Credibility: Our online tool, the Continuous Improvement Companion won the Apex Award in 2009 when it was launched, and Whaddaya Mean I Gotta Be Lean? was a finalist for the 2009 National Best Books Award. We know what we are talking about, and we know how to write it down in a way that is clear and effective.
Training and Consulting Help: Whether you want someone to deliver the training for you, show you how to do it, or help you implement the lessons, we can support you with our Lean Training and Lean Consulting services.