We've increased the number of 'Lessons of the Day' that we now offer. They provide you with a great way to take a systematic approach to learning. Whether you are a novice or an expert, you'll benefit from the daily reminders to spend a little brainpower on thinking about continuous improvement.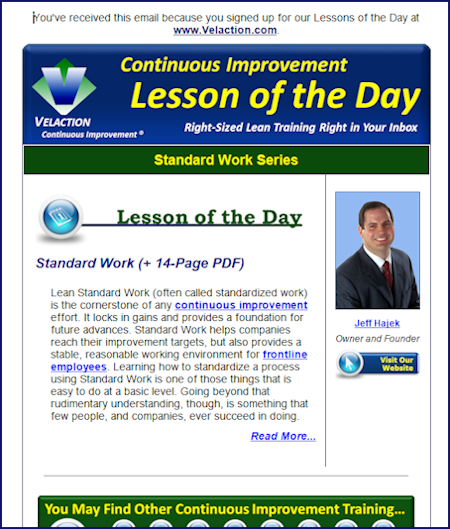 When you sign up, you will get a closed-end series of email messages focused on a single topic.
We currently offer the following Lesson of the Day series:
---
Our DVD line continues to grow, and we now offer 13 titles.
(Click here to see the complete DVD bundle.)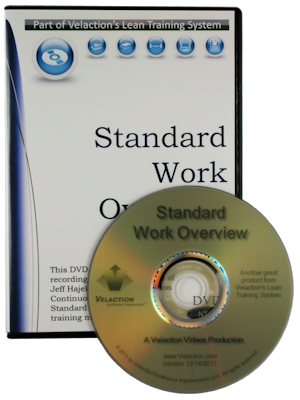 The latest addition is our Standard Work Overview DVD. One of the biggest benefits of our Lean Training System is the modular approach. Add to the effectiveness of the DVD with a free 14-page PDF on Standard Work, several Standard Work forms, and the available PowerPoint package.

Get Our Combo Bundles for the Price of Just the DVDs!
We mentioned a while back in our last newsletter that we were reorganizing our product line into Training Module Groups. Well, we have gotten that done, and have posted them to our class catalog page.
We are now putting together bundles for these module groups. Each will have a digital bundle, a DVD pack, and a combo with both. We've gotten these done for the Lean Leadership and Problem Solving groups, and are offering an introductory special. We are selling the combo packs at the same price as the DVD bundle, so it is like getting the digital products for free. Hurry, as the offer only lasts through the January 27, 2012.