Dear Subscriber,
It is a fun, exciting time to be involved in continuous improvement. Economic and political transitions always seem to increase the need for positive change. Higher energy prices will mean belt-tightening. Financial challenges in Europe will likely be felt throughout the world, making capital harder to come by. There is a growing number of companies that are bringing outsourced manufacturing back to their home shores, which likely has some productivity and quality improvement targets factored into the decision. It will be interesting to see how changes in Apple's contractor, Foxconn, ripple throughout its supply change, and echo into others. And presidential elections in the US always seem to rock the economic boat. So what does all this mean to the CI world?
Well, I recently saw an article that the overall demand for Six Sigma and Lean in job descriptions was up over 100% in 2011 vs. 2010. That confirms that many companies recognize that they need to get serious about how they improve, and that it will require an influx of talent.
More telling, though, was the widening gap between Lean and Six Sigma. In 2011, Lean outpaced Six Sigma by 68%, nearly twice the 35% gap in 2010. Because Lean is fueling the increase in CI requirements in job descriptions, the takeaway I get from those numbers is that companies are recognizing that Lean is a discipline that is more accessible to an organization than Six Sigma is. It is easier to train someone to implement Standard Work than it is to create an expert in ANOVA.
So, I suspect that the shift is more a reflection of what leaders think people are capable of and have time for rather than of how effective either philosophy is. Put simply, most organizations see a better return on investment by getting a hundred people doing small Lean changes than a handful of people doing big Six Sigma projects. I further view the demand spike as a recognition that it takes expertise to create expertise, and the rise in Lean as a job requirement shows that there is a growing push to seed organizations with talent.
But, unfortunately, this probably also means that there will soon be a shortage of qualified candidates with Lean experience in the same way that some companies are now facing an uphill battle filling engineering positions. Most companies, if they really are serious about improving, will have to create homegrown Lean talent.
And what I am seeing in my business bears this out. We've seen a significant rise in people seeking Lean information. Web traffic is rising fast. Subscriptions are up substantially, especially on our Lessons of the Day. Sales are growing faster than expected on training materials, and we are constantly receiving requests for even more materials.
To me, that is what is making this year exciting. When business gets better, it opens up new doors. With more resources, we can try new things as we achieve our Policy Deployment goals early. I am truly excited to see how much Velaction can accomplish this year, and how much we can help you do as well.
As always, best wishes on your Lean journey.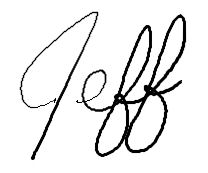 Jeff Hajek
Founder of Velaction